Online Store Shipping Policy
Shipping hours are 9 AM - 3 PM EST. We will do our best to ship orders completed before 3PM Monday - Thursday. Orders placed after 3 PM will normally be processed and shipped the next business day. **Note: during the December holiday season it's possible shipments are slightly delayed due to volume of orders. All available shipping methods to the desired shipping address will be shown and automatically calculated at checkout. All online store shipping will be processed and handled using FedEx. Orders placed on Friday will not be shipped until the following Monday. Orders placed on our online store over $75.00 during the months of October through March being shipped to one address in the continental United States (not including Alaska & Hawaii) will offer free UPS Ground shipping unless selected otherwise (please see "Warm Weather Shipping" for information on other months).
All Business Gifting towers will have a flat fee added at checkout for each product purchased regardless of quantity or destination.
All orders, regardless of price, to Alaska or Hawaii will be charged the full shipping cost calculated at checkout. Please call (859) 278-4444 about shipping to U.S. territories, internationally, APO, FPO, and DPO destinations.
Please confirm that shipping addresses are accurate. We are not responsible for delays or additional shipping costs due to incorrect addresses. Customers are responsible for the additional costs that FedEx charges to reroute packages due to incorrect shipping addresses. Shipping charges will not be refunded for late deliveries if the business is closed, if the recipient is not available when the package when is delivered, or if the recipient is not available when the package when is delivered to an area marked as "High Risk" by FedEx. Additional charges will be required for all shipments cancelled and re-routed back after the shipment has left our facility.
All shipments will be packed with ice packs free of charge if weather is estimated to be above 65°F. All orders placed online will automatically receive an order confirmation, shipping confirmation with tracking number, and arrival notification via email.

Fundraising Shipping, Delivery, and Pick-Up
In order to maximize your profits, we use a unique way of helping you pay the shipping cost so that it does not eat away at your profits raised from selling our candy bars! For each dollar of shipping cost you pay, we will send an extra candy bar worth $1 for you to sell in order to make up for that shipping cost so that it's ultimately cost free. **For example: If your shipping ends up costing $30, we will include 30 extra candy bars ($30 worth) for you to sell and make up for the money lost due to shipping costs. There's no need to repay us anything on these extra bars, keep the money and enjoy the profits! All orders will be shipped via FedEx Ground.
Delivery via Old Kentucky Chocolates is only available in the state of Kentucky and is delivered on an order proximity basis with a minimum 50 case requirement.
All orders are available for pick-up at 450 Southland Dr. Lexington, Ky. 40503.

Warm Weather Shipping
During the months of April - October we are unable to ship via FedEx Ground or Home Delivery to locations outside of the 2 day transit zone (LA, FL, AR, MS, AL, GA, SC, MO, KY, VA, IL, IN, OH, WV, MD, IA, PA, DE, NJ, CT, RI, MN, WI, MI, NY, MA, DC, TN, and NC) because of the perishable nature of our products. If you are shipping outside of that 2 day zone either FedEx 2nd Day Air or FedEx Next Day Air will be required. All shipments during this time will be packed with ice packs, if necessary, free of charge to ensure the product arrives in optimal condition.

Shipping Methods
**Note: All available shipping methods to the desired shipping address will be shown and automatically calculated during checkout. Below is a graphic showing transit times for FedEx Ground.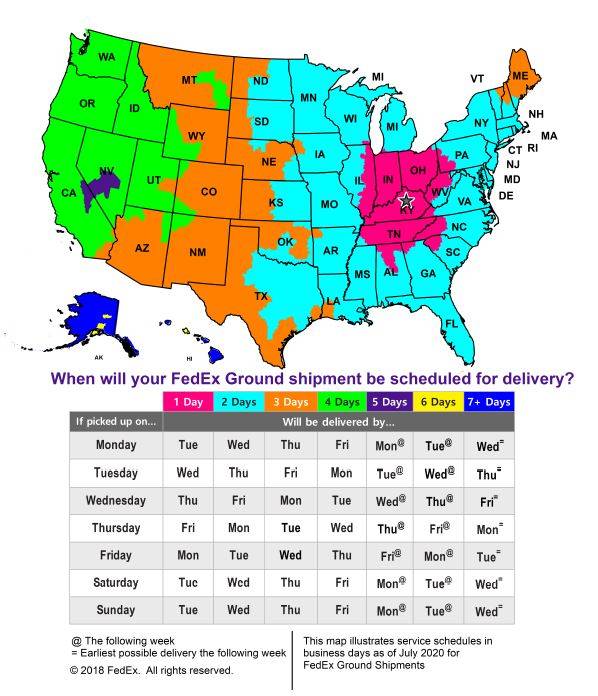 Refund/Return Policy
When you place an order with Old Kentucky Chocolates, we want to ensure that your gift will be perfect upon arrival. Between our thorough packaging process and 100% unconditional quality guarantee, you can rest assured that everyone will be satisfied with their Old Kentucky Chocolates delivery.

Old Kentucky Chocolates does not accept returns for unwanted products. However, if you experience a quality issue, please contact us immediately at (859) 278-4444 Monday - Friday between 9AM and 6PM so that our team can work with you to address the issue. In some events, our team of customer service professionals will require you to return (we will send you a return form) your unsatisfactory product for inspection in order to issue a refund. In some minor cases, the returned merchandise may incur a 25% re-stocking and/or administrative fee.